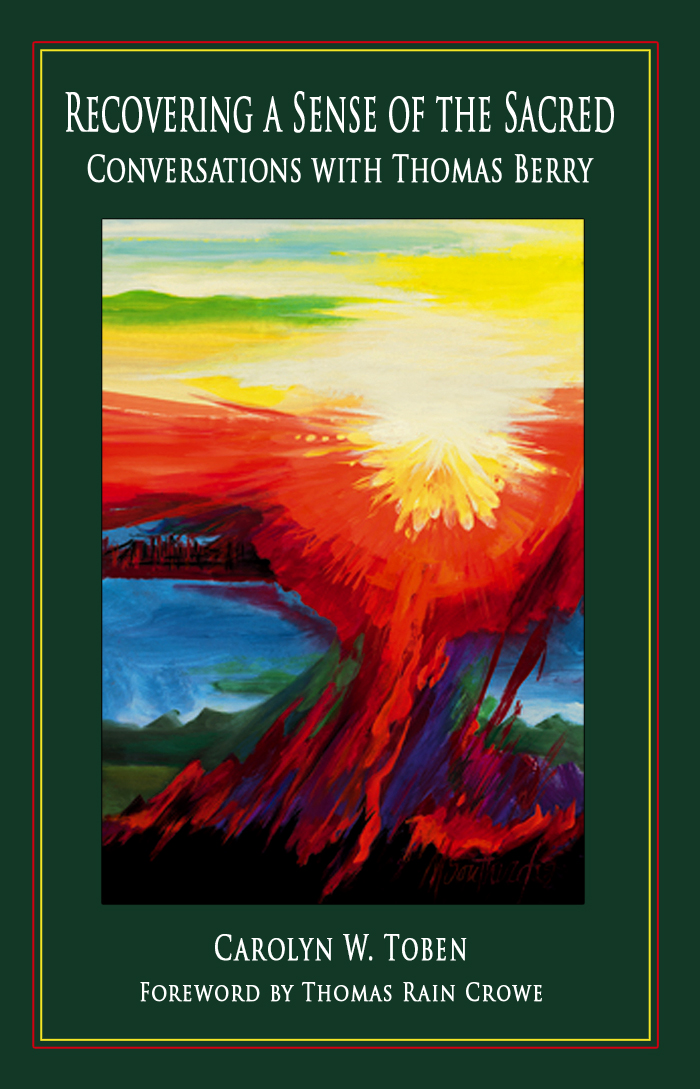 Recovering a Sense of the Sacred:
Conversations with Thomas Berry
Recovering a Sense of the Sacred: Conversations with Thomas Berry is a thoughtful and poignant memoir by Carolyn W. Toben recounting her spiritual journey with renowned scholar, author, and cultural historian, Thomas Berry. For ten years, Carolyn spent many hours in deep discussions with Thomas Berry about his transformational thinking for healing the human-earth relationship through recovery of a sense of the sacred. This book is based on her personal notes, practices, and reflections from these conversations.
Praise for Recovering a Sense of the Sacred

"Recovering a Sense of the Sacred is a poignant and intimate portrait that reveals deep insights into the work of the great contemporary mystic-sage, Thomas Berry. Even more than this, at this time of 'historic confusion,' this tender story provides a profound interior activation; it calls us toward another way of knowing that is essential for new levels of understanding. Reverent and real, this wonderful work provides gracious and wise companionship for a life of the sacred."—Tobin Hart, Ph.D., author of The Secret Spiritual World of Children
"No thinker in the twentieth or twenty-first century has provided us with as much inspiration and guidance about the relationship between humans and the natural world as Thomas Berry. Carolyn Toben's very personal and eloquent book offers us an opportunity to sit with Thomas and absorb his special wisdom."—Richard Louv, author of Last Child in the Woods
"This book is an exquisite gift for those of us familiar with Thomas Berry's writings and for those still new to his work. For here we meet the man himself in the context of an evolving relationship where, in different settings and moments over the last decade of his life, he shares his vision of a living universe and the immensity of meanings it holds for him. And here, in between their conversations, Carolyn Toben explores how his message is altering her own perceptions of the natural world and of herself. Their warm-hearted companionship invites us in as well, to come alive to the creative mutuality at the heart of all that is."—Joanna Macy, author of World as Lover, World as Self
"A fascinating and moving portrait of one of the Great Teachers of our time. I am deeply grateful for this lyrical and lucid memoir, which captures Thomas Berry's vision, his graciousness, his deep communion with the earth and its beings, and the implications of his work for the future. Skillfully transmitting his wisdom and presence, Carolyn Toben's encounter with the cosmology of Berry is a blessing for the entire planet."—Drew Dellinger, author of Love Letter to the Milky Way
"In this inspired book, Carolyn Toben chronicles her extended conversations with the noted theologian and philosopher, Thomas Berry. What she has achieved is not only a passionate homage to a great thinker and visionary, but a personal and moving statement of our human responsibility to access the depth of our consciousness in relation to all that exists around us."—Richard Lewis, author of Living By Wonder: The Imaginative Life of Childhood
"Carolyn Toben has given us a true gift! Recovering a Sense of the Sacred carries the reader to the heart of his/her deepest identity as a sacred being in a sacred planet in a sacred universe. Those who knew Thomas will find themselves right there in the midst of the conversations, listening in, smiling, bathed again in the warmth of his remarkable presence. For those who are new to Thomas or his work, this book is an excellent introduction to his comprehensive thought and wisdom, for here it reaches us through a sense of his person—his own deep sense of the sacred in every being, his reverence, hospitality and friendship."—Mary Southard, CSJ, artist and creator of the Earth Calendar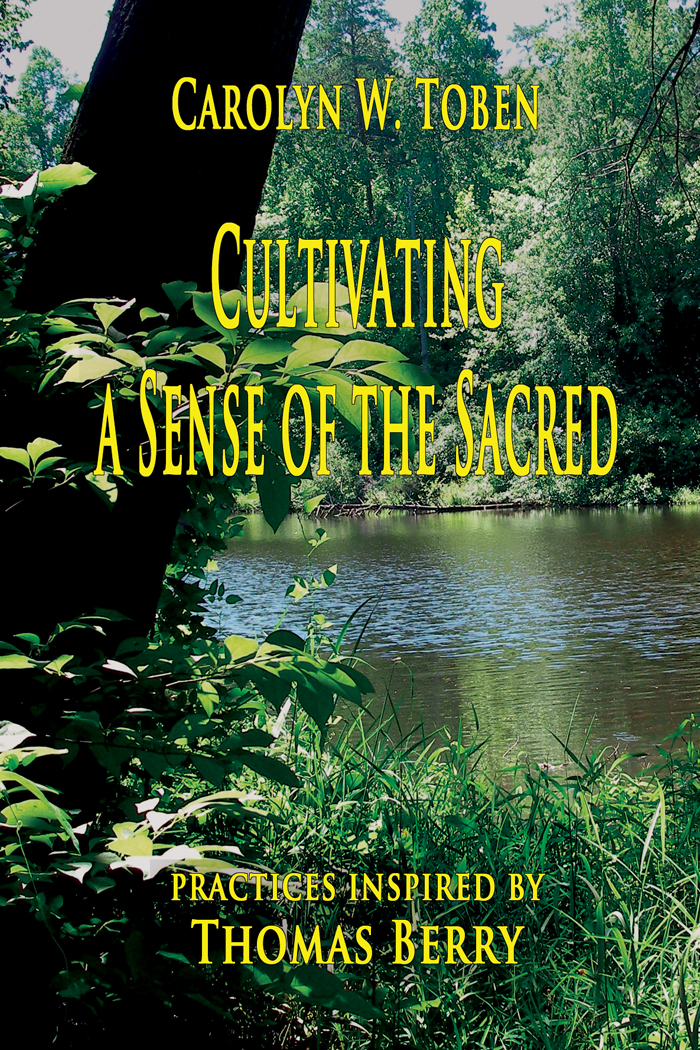 Cultivating a Sense of the Sacred
In an ever-evolving universe, learn spiritual practices to help you reconnect with the earth and the people in your life with mantras and reflections inspired by priest, author, and cultural historian Thomas Berry.
These meditative practices are based on the book Recovering A Sense of the Sacred: Conversations with Thomas Berry by Carolyn W. Toben.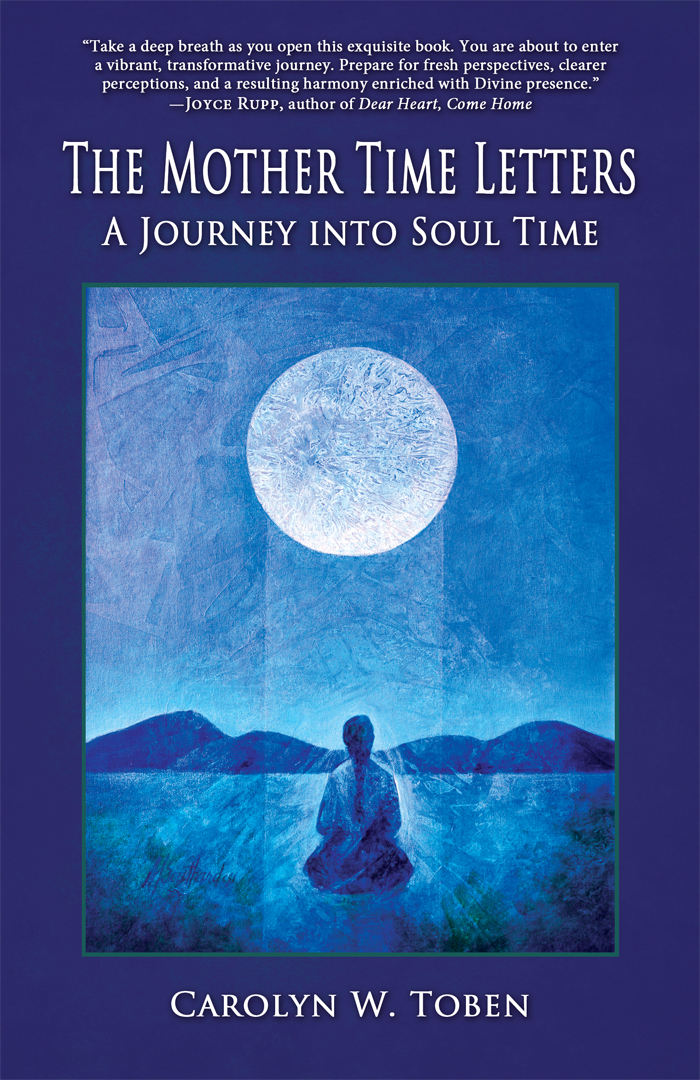 The Mother Time Letters:
A Journey into Soul Time
"In this beautiful book, Mother Time guides a seeker through darkness to the healing path of Light, where she untangles relationships, imagines freedom, and transforms fear into Love. The seeker's generosity, in sharing the intimacy of her own struggle with Mother Time, is boundless." —Nan Watkins, author of East Toward Dawn
CAROLYN TOBEN, author of Recovering a Sense of the Sacred and Cultivating a Sense of the Sacred, is a new voice in women's spirituality. Her tender and vulnerable memoir, The Mother Time Letters: A Journey into Soul Time, reveals, through deeply personal letters gathered over 40 years, the divine presence of Mother Time who accompanies her inner spiritual journey and guides her into a transformed understanding of life.
Toben, a grandmother and great-grandmother, offers distilled wisdom gathered from ancient and new perspectives along with her own lived experiences as she seeks Mother Time's unifying consciousness of Love that connects soul to Spirit, intuition to intellect, feelings to analyses, and a sense of the sacred to everyday life—insights so urgently needed in this time of historic turbulence and confusion.
In sharing her soul time journey with Mother Time, Toben takes us into moments both intimate and expansive that can inspire new pathways to Spirit, faith, hope, and Love.
Praise for The Mother Time Letters

"Take a deep breath as you open this exquisite book. You are about to enter a vibrant, transformative journey. Prepare for fresh perspectives, clearer perceptions, and a resulting harmony enriched with Divine presence." —Joyce Rupp, author of Dear Heart, Come Home
"Recent findings support how knowing ourselves and others creates a sense of well-being. This book opens us to a simple yet profound path for self-understanding and daily connection with our soul." —Janice Toben, M.Ed., Director and Co-founder, Institute for Social and Emotional Learning
"Mother Time is the wisdom-keeper we all need in our lives. This sweet book is a reminder that every one of us has our own Mother Time who supports each of us as we allow our lives to be an ever-greater expression of Spirit." —Lina Landess, author of Heart Breaking Open
"There is an alluring author-within-the-author here—a messenger of soul time. You will want her autograph on every mirror you look into, reflecting back what really matters in this life." —Maureen Wild, SC, Retreat Leader and Master Teacher, Living Cosmology and Sacred Ecology
"Carolyn Toben listens with the heart of the mystic to the eternal wisdom that was channeled through her. The guidance offered in this book extends beyond space, time, and the particular. It was given to Carolyn, yet speaks to us all." —Bridget Sperduto, Executive Director, The Well Spirituality Center